(Prefer reading to listening? Download the Episode #53 transcript!)
In their conversation with Lynn Cowell, author of Magnetic: Becoming the Girl He Wants, Amy 'n' Cheri discover the beauty of living beyond the social networking highlight reels and the pressure of parenting perfectly.
Instead, Lynn shares about how to engage our children's hearts with our own struggles and build up our friends with understanding.
(This page contains affiliate links. Your clicks and purchases help support Grit 'n' Grace at no extra charge to you.)
Recommended Resources

Downloads
Episode #53 Digging Deeper
Your Turn!
What's something you frequently say aloud to or about yourself that could influence those who hear you to be critical of themselves?
With whom might you share an internal sin battle so they can better learn how to take and confess their own struggles to God?
Lynn said that one of her biggest unspoken needs has been Just don't be mad at me. Even if you can't like me, just don't be mad at me. In what way(s) does this resonate with you?
Today's Guest — Lynn Cowell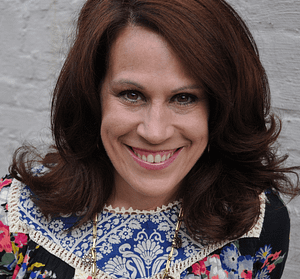 Lynn Cowell is a Proverbs 31 speaker and the author of several books including Magnetic: Becoming the Girl He Wants.
Lynn helps set girls and women on the path toward wise choices by leading them to the only love that can fill the love gap in their hearts.
Lynn, her husband, and their three children (all in college) live in North Carolina where they love hiking, rafting and anything combining chocolate and peanut butter.
Follow Lynn on Facebook, Instagram, Twitter, and Pinterest.
Transcript — scroll to read here (or download above)
****
Grit 'n' Grace: Good Girls Breaking Bad Rules
Episode #53: Fast Friends — Becoming a Woman Beyond Compare (and Comparisons!)
Amy:
Did you know the "the toughest job you'll ever love" was the motto for the Peace Corps in the 60s?
Cheri:
No. I didn't know that!
Amy:
Even though it originated there, I think mothers own that motto!
Cheri:
Totally! One of our listeners hit the nail on the head. She said, I am a people-pleasing, perfectionistic mother, grandmother and great-grandmother. I know better and many days by the grace of God, I overcome. But, some days Satan works his lies, and I begin my perfectionist dance even with my family.
Amy:
Mmmmm … "…even with my family."
Cheri:
Right? I just resonated with that so much. Like, why can't our families be exempt from our issues.
Amy:
Oh my heavens, YES! The best thing about motherhood to see yourself reflected in your children, and the worst thing about mothering is seeing yourself reflected in your children!
Cheri:
Well, this is Cheri Gregory…
Amy:
…and I'm Amy Carroll…
Cheri:
…and you're listening to "Grit 'n' Grace: Good Girls Breaking Bad Rules."
Amy:
Today, we're talking Lynn Cowell, author of Magnetic: Becoming the Girl He Wants. Lynn Cowell is a Proverbs 31 speaker and the author of several books. Lynn helps set girls and women on the path toward wise choices by leading them to the only love that can fill the love gap in their hearts. Her husband and their three children (all in college) live in North Carolina where they love hiking, rafting and anything combining chocolate and peanut butter.
Cheri:
While we are talking about mothering today, this episode will resonate with anyone who's ever been a daughter … or a teenage girl.
Amy:
So Lynn, I love the title of your book, Magnetic – Becoming the Girl He Wants. What led you that title and to write this book?
Lynn:
Well for many years, I mentored high school girls and middle school girls. And one of the things I would notice was it seemed like their personality wasn't consistent. One week they'd come to group and they looked super girly-girlie: they had on the hot pink and the chartreuse green and you know just this girlie look. And the next week they would come and they would have Nike shorts and a pair of tennis shoes on and their hair in a pony tail.
And I was just having a hard time trying to connect with this girl because I couldn't figure out who she was.
Well, as we would dialogue, I would come to find out they had a new "crush." And the first week they determined that he was looking for a girlie girl. You know—he wanted this specific type of girl so she was trying to become that girl. Or if she was going after an athlete, then she wanted to come across as being more athletic herself.
So instead of being true to herself and just reaching the full potential of who she was, she was busy trying to become what someone else wanted her to become.
So that's where the kinda tricky subtitle comes from — Becoming the Girl He Wants, because these girls were constantly trying to become the girl who this boy wants instead of becoming the girl that Christ wanted her to become.
Amy:
Oh, that is amazing. And you know it's interesting, as a I travel and speak, to talk to teenage girls. I've just had more conversations with teenage girls about perfectionism. It's kind of astonished me. And so they feel so much pressure to be perfect and of course there is the everpresent boy situation.
But is there anything else in our culture that you feel like is leading them to feeling like they have to be perfect?
Lynn:
Well, last Fall Time Magazine came out with just what I found an astounding article. It was all about how this generation has the highest level of anxieties and mental and emotional disorders of any other generation. And the reason simply comes down to social media.
At least when you know — Amy you, and Cheri, you – at least when we were growing up, the competition or the pressure we felt? It either came from home, or from a coach or from the girl who's locker was next to ours.
But these poor girls – their comparison is the girl that is on their screen every morning when they wake up. And because she has been edited and because she has spent 2 or 3 hours developing this perfect picture, that's who she has to compare herself to and it is ripping our daughters apart.
Amy:
It's heart-wrenching.
Lynn:
It is.
Cheri:
How do you think that moms can be part of – well first of all do you feel that mom's have a role in this perfectionism cycle? Do you feel they have an influence on their daughter's feelings of needing to be perfect? And what role do you think they can play in trying to break that cycle?
Lynn:
Well, I think rather than looking at how we can fix our girls, I think part of has to do with what's the language we're using about ourselves? And so much of that language is even not intentional.
You know you come down and you're getting ready for work in the morning and you peek in the mirror and you're like, "Ugh! I'm having such a bad hair day." You know – to you that's a flippant observation. But to those who hear us, it's a judgment call against ourselves. That there is a difference between the day when my hair is perfect and the day that it's not. And when it's not [perfect], it's not going to be a good day.
So, I think even the language we use about ourselves about the way we look, about the performance we're doing at our work or even things about how our meal tastes at night? We're all sending communication to those around us about what the the standard looks like and when we're not meeting that standard.
Amy:
How do you see this show up? Because Lynn you speak to girls, to teen girls, and you speak to women. So how do you see the teen girl attitude and those thoughts carrying into womanhood for us?
Lynn:
Well, I think that you know on the lowest level, I see it come across as being overly selfconscious. For instance, last night we came home from out of town and we were going to go pick up some burgers because I just didn't want to cook. I had on a pair of – we had just gotten done working out and I said to Greg, "Do I need to change my clothes?" And he just kind of looked at me and was like, "Are you planning on seeing someone?" Or you know basically he was like, "Why do you care?" And I think that that's like the lowest level sort of, of our selfconsciousness of, Who are we going to see? What's somebody going to think?
And then from there it goes all the way up to some of the bigger issues that can develop over time which is anxiety, depression, eating disorders, self-harm. It starts in a lower place but unless that thing is healed and addressed and not shoved under the carpet, it can so easily grow into something that sticks with us for our lifetime.
Cheri:
What do you see in your experience is the impact on their children of moms trying to shelve their own issues if they aren't dealing with them?
Lynn:
The thing in my life that I saw was often the big part of the people pleasing, what the result of that would be is that I wasn't sometimes brave enough to try something that scared me or that was fearful or that even was new. Maybe not so scary but just something I hadn't experienced before. And even though everything about me said that I had the gifts and I had the talent to do it, I still would not because What if I failed?
And I have seen that in myself be passed on to my kids without even saying something verbally. Maybe just see me shying back from something that I could've pursued but I didn't because I didn't know how it would turn out. And so I think sometimes even not necessarily by what we say but by what we don't say, we also can pass on those things. The thing – Don't do that because you don't know how it's going to turn out. So stay with what you know.
Amy:
We're doing a series on friendship and the things that sparked this conversation, Lynn, was you sent us an email and you were saying about how we as women, we judge each other about parenting. And when our kids fail, how we respond to each other. Talk to us a little bit about that. It is pretty hair-raising.
Lynn:
Oh gosh. So this story is humiliating but you know, I just am going to be a little raw here this morning.
One time I was taking – our whole family had gone to a concert. And we were standing outside because the line was very, very long. And my daughters were probably in middle school, about that time where it felt like every other day we were sending them back upstairs to change their clothes.
And so, we were standing in line and it was a concert that was geared more toward a younger audience. So as I would see these teenagers or young adults coming in line, I would point out to my daughters those who were dressed inappropriately, you know? "Her skirt is a little too short. Oh honey! Put those away!" You know comments like that. And finally my daughter looked at me and said, "Mom, would you stop judging every girl getting in line?" And I said, "I'm not judging I'm just simply trying to teach you how to dress." And she said to me, "Mom you did that when we were 8. We know how to dress."
But you know, in my quote/unquote … you know, sometimes don't we as Christians don't we cover up everything with all kinds of blinds? … in my quote unquote trying to teach my daughters, what I was teaching them was how to judge. How to judge other women, and how to judge other Christians. And pride has always been you know my biggest stumbling block. My biggest sin in my life, and that definitely has come out in different ways with my kids. And so, like you were saying, Amy, all of our kids are going to mess up.
Amy:
Yes.
Lynn:
We messed up. Why would we expect anything different? And so how we respond when our friends are hurting – because when our kids are anything short of God's best for them, it deeply hurts. And we need each other to come alongside of each other and say that just as God was faithful to draw us to himself, that's God's job. That the burden of drawing our children to himself it lies on God. That responsibility doesn't lie on us.
And can I just raise my hand and say, Responsibility is my number one strength!
Cheri:
Oh you too?!
Amy:
I'm right up there!
Lynn:
And so, I carried that responsibility heavily when it comes to our children. And God says, "Girl that is not your responsibility, that's mine. And what you are seeing isn't the end of the story. It's the beginning of the story that I'm writing with your children. You're not writing that story, I am.
Amy:
So good. And I'm thinking if we could all embrace that truth, all of us, then it allows me to give you grace as my friend to make different parenting decisions than I do. 'Cause sometimes it's not just a child's failure that gets judged but what movie you let them go see or what concert you went to. You know Lynn, I want to know who that was but… But you know we judge each other so harshly for, and I think, for me, I've done the same thing Lynn – self righteousness ifs my besetting sin that I wrestle with. It's that I want to know so much what's right and what's wrong that I have to slap a label on everything. And it's just not conducive to friendships and to supporting each other.
Cheri:
I grew up in a home where any failures or mistakes were hidden. You didn't talk about them. My mother tried her best to make sure nobody knew about my brother's drug addiction. That nobody knew about my eating disorder.
And I think we've become a lot more vulnerable and a lot more authentic. But my first instinct even now when something's going on with one of my kids is still to keep it to myself.
How can we be more supportive as a community of mom—as a community as women … let's not even limit it to moms. But just as a community of women, what might it look like and sound like to be able to support each other through the challenging times that our kids are going to put us through? Cause they're going to! Humans fail in order to learn. That's what happens. And if our kids aren't failing, they probably aren't learning. So let's kind of cast a vision. What could it look and sound like?
Lynn:
Well, I'm going to kind of go about this sideways. When my son was younger, and just really struggling with the concept of faith, one of the things he said to me one time was, "You know, I just can't be perfect like you, Mom."
And what I realized was the type of struggles I was experiencing at that point and still experience today are not external. They were things like jealousy, comparison…those things aren't something you see when you look at me. So although I started this really, really late in my parenting, in fact my son had already left home by that point, with my younger children, I began sharing with them my sin struggles that were internal.
So I started telling them, "You know today, I really struggled with jealousy." And I just exposed to them the sin that was happening inside of my heart because then I could also take them and say, "Here's what I did with that. Here's what it looked like when I confessed my sin to God."
My pastor's wife I recently heard her say, "Authentic with everyone; vulnerable with a few."
But we have to have those friends. You know? Like last week, I had something absolute gutwrenching … absolutely gut-wrenching happening in the private life of one of my children. And I asked my Father, "God, Can I tell someone? Because I'm breaking up inside." But I also needed to protect this child's privacy. And I asked Jesus, "If I can tell a friend today, will you have someone call me and ask me, "How is bla-bla-bla."
And I had a friend call me and ask me, "How is…" and they said this child's name. And right there in the middle of the dry-cleaning parking lot, I wept. I wept and wept and wept and I bared my soul to my friend. Because the Father gave me permission to do that.
And I think that's part of what we need is we need to know the difference. We need to know what it looks like to be authentic – we should always be authentic – but we have got to have what I call my "bulls eye friends" you know? If you draw like a target? Our friendships can kind of be like rings but we have to have that one or two friend that's right there in our heart that we can bare our heart to and when we say, "Pray for me" she is literally at that moment getting on her knees, and she is busting down heaven's gates on behalf of you and your family.
Cheri:
I love, Lynn, that your first instinct was to go to God and pray for permission and guidance. My first reaction has tended to be, Who can I call? And then I've tended to call people who weren't safe people.
Lynn:
Well, I'm just going to tell you, Cheri, the reason why was because a couple of weeks ago I shared something of one of my daughters with a friend and she found out and it busted my daughter's heart. It just flat out busted her and she said, "You didn't protect me mom. "
Cheri:
I'm going to go back to one of the earlier questions because I think this circles around really, really well.
For the title of your book, Becoming The Girl He Wants, I think that every woman has a little girl part to her heart. I think we're all still growing up. I know you wrote this book specifically for teenage girls or even young adult women. But I think all of us have that part of our hearts that is still growing up.
And so, how is becoming for Jesus, becoming who He wants different than becoming to please other people? If this becomes the focus for those of us who are moms, how is this going to change our parenting?
Lynn:
My daughters are now 22 and 20. So you know, they're women. We're constantly talking about how every day we're becoming. You don't stop becoming. You know, "I became a woman." That makes it sound like there's an end process. There's no end.
And every day we're becoming with the choices that we make and with the words that we use, we are every day becoming. And so when we are caught in that cycle of being a people pleaser, then that becoming has a motivation and the motivation is Like me. Approve of me. And for me even more so it was Just don't get mad at me.
I can't stand disapproval. I can't stand somebody being upset with me. So even if you can't like me, just please don't be mad at me.
And so, when we are in the process of becoming the girl He wants, the girl He wants, the woman He wants us to be, is a woman is who knows who He's made me to be. Who is grasping every day who He says that I am. That He says that I am already approved. I am already adored.
I love the way Psalms 45:11 says that "The King is wild for you." That's the way it says that in the Message.
There's no conditions attached. He is simply crazy about me because he created me. And so what happens is when I grasp fully how wild his love is for me, how deep is love for me, my natural response to that love? Is to love in return. And to begin to have the Holy Spirit be the one who's determining the way that I behave. Because he's indwelling me. And that's the crux of Magnetic — it's a story of the fruit of the spirit. And the fruit of the spirit is not something we do. It's someone we become and we become loving, kind, gentle, peaceful, when He is controlling us.
And when we and especially the perfectionist is in control of us, that's not what comes out. You know? It's not. It's not kind, it's not gentle, and it's not loving and it's certainly not joyful. Cause it wasn't done right!
Amy:
Great truth!
Cheri:
Any wrap-up encouragement?
Lynn:
You know, whether we're talking about our own lives or the lives of those around us. If we can just remember that we are in process – we are in process. Like I said: we never arrive. It's never going to happen. And so if we can grasp that we are on a journey of becoming more Christ-like and relieve the pressure from being on us to perform and to do things a certain way rather on Just today, Lord, just give me enough wisdom for today. (And for me, honestly, it's just enough for the next hour until my husband gets out the door.) Give me enough wisdom to do partner with you in order to live a life that is constantly developing your Spirit in me. That's enough. That is absolutely enough.
Cheri:
Head over to GritNGraceGirls.com/episode53.
Amy:
You'll find links to this week's Digging Deeper Download, Bible verse art, and transcript.
Cheri:
If you've enjoyed Episode #53 of Grit 'n' Grace: Good Girls Breaking Bad Rules, would you leave us a review on iTunes? You'll find a link on the webpage for this episode.
Amy:
Be sure to join us next week, when we'll be processing together what we learned from our time with Lynn.
Cheri:
For today, grow your grit … embrace God's grace … and when you run across a bad rule, you know what to do: go right on ahead and…
Amy & Cheri:
break it!